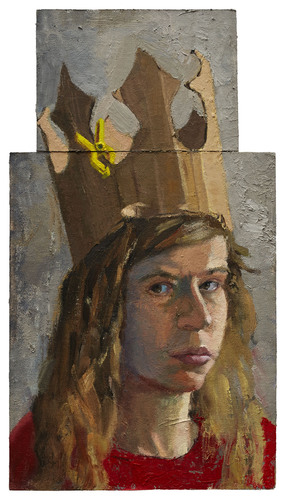 A Brooklyn-based artist and writer from Tel Aviv, Avital Burg creates highly personal works by utilizing specific references from history of art and her own. Inspired by the Early Renaissance and Baroque painting, she often addresses her European roots, alongside tales of knights and princesses, in order to create immediate, evocative artworks. Avital Burg paints portraits of models in costumes, dioramas of cardboard castles and gilded broken frames, using dense paint textures, on the verge of relief. Symbolic and enigmatic, her carefully crafted canvases appear to be spontaneous and somewhat precarious, as they recall legends and traditions of the past and reflects on sociopolitical challenges of present day.

Burg's work was recently shown at a solo show at Slag Gallery, in a two-person exhibition at Arts at AJU, Los Angeles, and Club Caltural Matienzo, Buenos Aires. Her work was featured in the

Greenpoint Film Festival NY, and in a solo project at Hanina Gallery, Tel Aviv, as well as in several group shows in New York and Tel Aviv. Burg's work are part of many collections world-wide, among them are the Louis-Dreyfus Family Collection, NY, The Bank Leumi art collection, Israel, and Mr. Dov Shiff collection, Israel. Burg attended the Bezalel Academy of Art and Design, Jerusalem, "Hatahana" school of figurative drawing and painting, Tel Aviv, The Slade School of Art, London, and the New York Studio School.